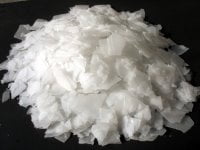 Caustic Soda, a key chloro alkali product has a total production capacity is estimated at 33.0 million tpa. Caustic Soda is widely used by Paper & Pulp industry, followed by alumina production, chemical production, soaps and detergents, textiles and in water treatment. China is the world leader and imports from China is a huge threat to Indian industry. In September 2015, there has been an anti-dumping duty (nil to USD 48.39 per dry tonne) on caustic soda imports from China and South Korea.
India imported 550,000 tonne caustic soda in 2014-15 compared to 400,000 tonne in 2013-14.
News
List of Caustic Soda Manufacturers in India
Caustic Soda FAQ
How much caustic soda is produced in India ?
Around 3.59 million tonnes of caustic soda is produced in the year Financial Year 2018-2019
What is the total production capacity of caustic soda in India ?
India has around 4.27 million tonnes of caustic production capacity
Which is the largest caustic soda plant in India ?
DCM Shriram Ltd has the largest caustic soda plant production plant in India. It has around a production capacity of 1347 tonnes per day.
What are the main uses of caustic soda ?
Caustic Soda is mainly used in Textile, Pulp & paper, Aluminium, Soaps & detergents industries in India